House-Concert Booking Info
---
House-Concert Info Page
---
This page includes information on how to host a house concert, photos from previous concerts, and feedback from previous house concert hosts. To book a date for a house or office concert, please contact Rachel Lynn at
rachellynnmuziq at yahoo dot com or 310-913-5577.
---
"Thank you, Rachel Lynn, for an unforgettable night. Was magic getting to hear you sing again, and introduce you to friends. Plus, as a bonus, from now on I am going to see a concert hall whenever I walk into my living room!"

- Kristen Holmquist (House-Concert Host: Berkeley, CA)
---
House-Concert Hosts are Heroes
---
"What a fantastic evening on Saturday. I fully support any future plans of this nature. It was so exciting to go to someone's house (yours) and hear a high caliber performance, in such a wonderful and comfortable setting. There is something really special about watching and hearing someone perform up close. There is that special magic, which you just don't experience from a CD or TV. I was and still feel thrilled by the experience. It was really a great gift that you gave and it had a truly positive affect on my life!"
- an email from a house-concert audience member to the concert host
House concerts are - intimate - easy-to-set-up - really fun - an amazing way to see a show!
Did you know that you could have a killer concert in your own house? Have you ever been to a concert that one of your friends put on at their house and noticed what a great time their guests had? Do you have a friends, a family member, or a company that might be interested in hosting a concert and has the perfect space to do it in?
My favorite thing about house concerts is that I get to connect with my audience in a very special way - with lots of laughing, some tears, and even a
rowdy sing-along or two. Get your lighters ready!

---
---


"Excellent date night backyard concert listening to an amazing artist and friend. Wishing her the best on all of her travels and happiness. Thank you Rachel we will not forget this night."
- Adrienne Wolfe (House-Concert Guest: Hermiston, OR)
---
---
** THE DETAILS - When I come to your living room, apartment, or back yard to play a House Concert, I will bring and set up a small PA system. It's just like a regular concert - I play two full sets of music with an intermission and then hang out after the show to sign CDs and get to know everyone even better. All I need from you is to gather at least 25 or 30 of your friends, family, and co-workers together at your house for an amazing show!
** THE CONCERT FEE - Each audience member donates $12-$20 for the performance. There must be a minimum of 25 guaranteed guests at $15 per person. So the more guests, the less each person needs to pay. We can work out a special deal for CDs or T-Shirts for the guests that pay ahead of time. We can also work out a deal for couples & families. I want to make sure your guests get the best possible experience for their money and time.
** TIPS FOR THE BEST POSSIBLE HOUSE CONCERT - Many hosts send out emails to friends as invitations and some have started to send out Evites as well. One extra creative host made a CD with music and details and sent it out to her guests. One corporate host put several songs up on his company website for employees to easily check out. (I will send you an email template when we schedule the date.)
The more the merrier! 25 people is a minimum - you'd be amazed at how many people can fit into a room. It's a good idea to invite everyone from co-workers to good friends, to neighbors, and even people that you may not talk to that often, but you know will really enjoy the music. You'll be surprised how many people will hear about the show later and wish that they had been able to come and be a part of it.
I recommend collecting the $20 donation from each person before the evening of the show; that way you can be confident your guests will be there and will be free of collecting money the night of the performance. Many hosts ask for checks made out to "Rachel Lynn Sebastian" to be mailed to their house. It's much easier to get advance reservations than to collect the money the night of the show. (Note: On average, half of my house concert hosts have "charged" their guests the ticket price, and the other half make it free to their guests and pay directly per person attending. A few have done a combination of the two - charging less per ticket and making up the difference. Either way works great.)
In general, the more "concert-like" the environment, the better. I suggest renting folding chairs to augment your dining room/office chairs and to create rows with aisles that face the "stage." They cost about $1 each and really make people feel like they are at a fabulous venue. Be creativeif renting chairs is not your style - what about 30 bohemian-style pillows? Or an assortment of chairs collected from your neighbors?
10 small candles (tea-lights are best) go a long way to creating the perfect show ambience in your living room - especially if the show starts after the sun has gone down.

Providing food and drink is a fun option for your guests. A table with chips & salsa, homemade table-wine sangria and cake is a welcoming addition to the atmosphere. But don't feel that you need to prepare for your guests on your own.


***INVOLVE YOUR COMMUNITY
The transformation I am going through in my life has become the purpose of my career and this tour. I am allowing the people in my life to help me be as successful as possible so they (you) can be a part of - and a cause of - my success instead of being outside of it. I invite and encourage you to do the same with your house-concert. Do you have a close friend, neighbor or family member that you just know would help you from start to finish? These are the people in our lives that actually feel grateful and fullfilled to be of service; please don't discount their wanting to help. Enrolling one or more people to help you from the very start is essential.

HOW MANY PEOPLE WILL FIT IN YOUR LIVING ROOM? - I take up approximately a 5x8' space - a little more or less depending on the room configuration or if you have a real-live piano that I can play.
A 12 ft. x 20 ft. room can fit 30-35 people and me!
A 14 ft. x 14 ft. room can fit 25-30 people.
A 20 ft. x 18 ft. room can fit 40-45 people.
A 20 ft. x 25 ft. room can fit 55-60 people.
** A DAY IN THE LIFE OF A HOUSE CONCERT
5:00 p.m. Let the fun begin! We meet and greet.
5:30 p.m. I set up the PA equipment and sound-check.
7:00 p.m. I disappear into a back room to prepare for show.

7:00 p.m. The audience arrives (food, drink & social time).
8:00 p.m. You make a witty introduction and I play my first set of music.
8:45 p.m. Intermission
9:00 p.m. Second set (w/lots of encores!)
9:45 p.m. I sign CDs and we all hang out.
"I am so freaking excited about this! It's...wow!" - Quote from Kat Reese (Eugene, OR concert host)
Please check out a video display of house concerts around the world:
http://www.youtube.com/watch?v=try-z4-4h04

---
---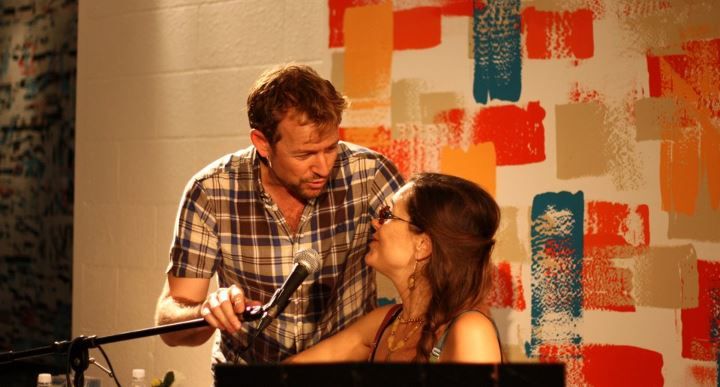 Rachel Lynn

Beyond expectations, in a total sheer delight
we were all easily star struck all through the night.

A voice and your stage presence had the audience in awe

and when it was over we all wished for more.

Little lady singing with a beauty, style and grace
blessed us one evening in our little space,
leaving us with a forever memory and a smile on our face.

-James David Mancini (Concert Host - Palm Springs)
---
---
**GET CREATIVE
I have expressed my own needs for the concert; now it's your turn to get creative! Some of my hosts invite a local acoustic act to open up for me - some have art showings - some make it a potluck - some make it on a special occasion in honor of someone's birthday or anniversary - some invite the whole neighborhood and make it a block-party!

**GET EXCITED!
The most important thing I want you to know is it's YOUR concert: a private concert for you and your friends only - and your friends will NEVER forget the night they experience this incredibly intimate performance and they will thank you for the opportunity! If you are not excited about your concert, your guests will feel that. If you feel uncomfortable with any arrangements that we agree on, we can talk it out! I am here to support you and so are the people that you enroll to help. Whatever 'unique twist' you need to put on your event is what it needs...it is your vision that will make it a
success!

---
---
BEFORE AND AFTER
Seattle, WA
---
CONCERT REVIEWS
---


First, a great Rachel Lynn concert, then a cool family jam session, ending in FUN with Rachel Lynn!!! Thanks for an amazing time!! ♥ - Monica Moscato (house-concert guest)
Thank you, Rachel Lynn , for an unforgettable night. Was magic getting to hear you sing again, and introduce you to friends. Plus, as a bonus, from now on I am going to see a concert hall whenever I walk into my living room! - Kristen Holmquist (concert host)
So in reflecting on my time with you personally and watching you professionally I say you make a person feel like they are the rock star. You are so intentional and make a person feel like they are the important one. I speak God's blessing over you right now, and as you continue your tour and into your future. I am so excited to see your future unfold. Thank you so much for the flyer and cd. - Katie Fox (Concert Host, Tri-Cities)
Heard a great singer-songwriter, Rachel Lynn, at a house concert last night (thanks, Kristen and Stefano!). Powerful songs and a terrific voice. - Robin Packel (house-concert guest)
Thank you so much for having us! And thanks to Rachel for such an awesome, wonderful performance!
- Kerry McKlean (Message to concert host)
Hey pleasure meeting and hearing you play last night. As mentioned you got an incredible presence and know how to work a audience. - Wilson Wong (audience member - singer/songwriter)
Thank you Rachel Lynn Sebastian for an amazing evening! #affected #thebeatgoeson #ilovelivemusic - Aaron Orcino (audience member)
Co-hosting a backyard concert was an incredible experience. Your strength and growth is evident in your music. Thank you so much for sharing your wonderful energy and spirit with all of us. Our hearts are with you in this journey and we are proud of your efforts toward the new album. We love you! -
Nisha Hall (House-Concert Host: Portland, OR)
You are an awesome musician, I could listen/watch you play music all day... thank you for your lovely voice and music.- Steven (Seattle fan/friend)
It was a great night!!! I love the uplifting and positive energy you bring everywhere you go. - Pam Volk (House-Concert Guest: Omaha)
Amazing concert!!! You touched my heart and your music touched my soul. - Christina Merrill Hunting (House-Concert Guest: Idaho falls)
Excellent date night backyard concert listening to an amazing artist and friend. Wishing her the best on all of her travels and happiness. Thank you Rachel we will not forget this night. - Adrienne Wolfe (House-Concert Guest: Hermiston, OR)
What an amazing experience I was so glad to finally meet and here Rachel sing. - Corinne L Young-Derby (House-Concert Guest)
Wow... Something very powerful and strange happens when an original song writer pours their heart and soul out to a (n intimate) room of strangers. You actually get the sense that you've been alongside them on their journey and you get a taste of what the artist has gone through. For me the experience is always enlightening and seriously cathartic. It definitely helps me to put things into perspective. -
Aaron Orcino (Audience Member)